What is YouMinter?
YouMinter is a social network in easy-to-use iOS and Android app with NFT feed, followers, and likes, that opens up the world of NFT to everyone and which is owned by its users.
Create, mint, and share your NFTs on any blockchain with just a few taps and own a part of the project.
Who is it for?
YouMinter is perfect for bloggers, artists, and collectors.
If you're a blogger, add exclusive, collectible photos and videos for your fans;

It allows bloggers seamlessly dive into the open NFT world, create and sell their NFTs by adding the new level of monetization for their communities.
If you're an artist, create and share your masterpieces;

Definitely, YouMinter is a great place to show off your art. Now you can concentrate on the process and be sure that the result will be recognized.
If you're a collector, look for rare NFTs, buy, resell, and collect them;

When exclusivity meets communities and NFTs, there is always perfect space for collecting and trading.
Problems in the NFT space
The main word for NFT space at the moment is "difficult". When it's difficult, it's not going to masses.
Difficult.. to create NFTs.
Yes, it's rather difficult to a 99% of common users. To create NFT you need to create Ethereum wallet, buy ETH, register an account on OpenSea or any other platform, etc..
Difficult.. to set price.
Yes, you can't even understand how much your work should cost. You see CryptoPunks, which are sold at 30-40 ETH, you see some masterpieces with a price of 0.2 ETH, and you're confused about which price should you use.
Difficult.. to sell NFTs.
Ok, you're an artist, and you want to sell your works. Right, it's difficult also. There are thousands of artists on the marketplaces with millions of NFTs. And creators don't have any tools to boost their works.
Difficult.. to convert your fans.
It's a big ordeal for celebrities with their own communities to convert their fans into an NFT sales. You need a tool for creating NFTs, tools for minting NFTs, tools, for selling NFTs, tools for boost your NFTs, etc.
Seamless NFT experience
All features are combined in one easy-to-use application;
YouMinter mobile application will be available for iOS and Android, and that is the only thing you need to create, sell, buy, or send your NFTs. This is a social app, so we are adding everything you need to build your communities, follow bloggers and artists, and communicate with all of them in one single place.
Backed by NEAR Protocol, which means maximum convenience and comfort for our users;
The technology is secure, simple, crystal clear, and guarantees you a safe and stable experience. We are doing everything on the fly and behind the scenes, but if you need, you can always use your NEAR wallet anywhere. Moreover, with the NEAR Protocol, the cost of the transactions will be almost free.
Everything is easy and intuitive: the app works in blockchain, but all you need is Apple Pay and Google Pay.
You do not need to deal with multiple apps, devices, wallets, or learn details on how blockchain works, because now all workflows are native and accessible in a single place — YouMinter mobile application with the ability to use Apple and Google Pay for transactions.
Each our user owns it
50% of tokens are locked and will remain owned by YouMinter users.
Members will receive linear vesting from the first month after release and for the next 5 years.
Recalculation will take place every month, depending on the number of subscribers and activity in the app.
According to the users' influence volume, they will receive one or another percentage of tokens.
And yes, the sooner you become part of our community, the bigger share in the company awaits you!
Go To Market
NEAR Community, IDO users, users from crypto space

Our first followers will be users from the crypto space who participate in IDOs, whitelists, and hear about us from the media. The main point is the NEAR community, where we expect a lot of early adopters and first NFT creators, buyers, and sellers.

Non-crypto Instagram and other social platforms bloggers who are willing to create their first NFTs and start earning more. Those who heard about NFT marketplaces but have not reached it yet

We reach out to many bloggers, and over 90% of them have heard of NFT and definitely want to take advantage of it. All they need is a convenient and easy way to get into the open internet world, and YouMinter is perfect for that purpose. We expect opinion leaders to not only test the app, but also show their first NFTs to their followers on their current social networks, sell them, or even just make some noise by showing some exclusive content.

Ownership economy and possibilty not only to use, but to own YouMinter

We're launching a major pool specifically for influencers. The reward will depend on the importance of each specific user's contribution to the community. The platform users will also receive a stack of tokens and will become its owners. With the growth of the project, that will be ensured both by marketing and the audience of the influencers, the token value will also grow.
Tokenomics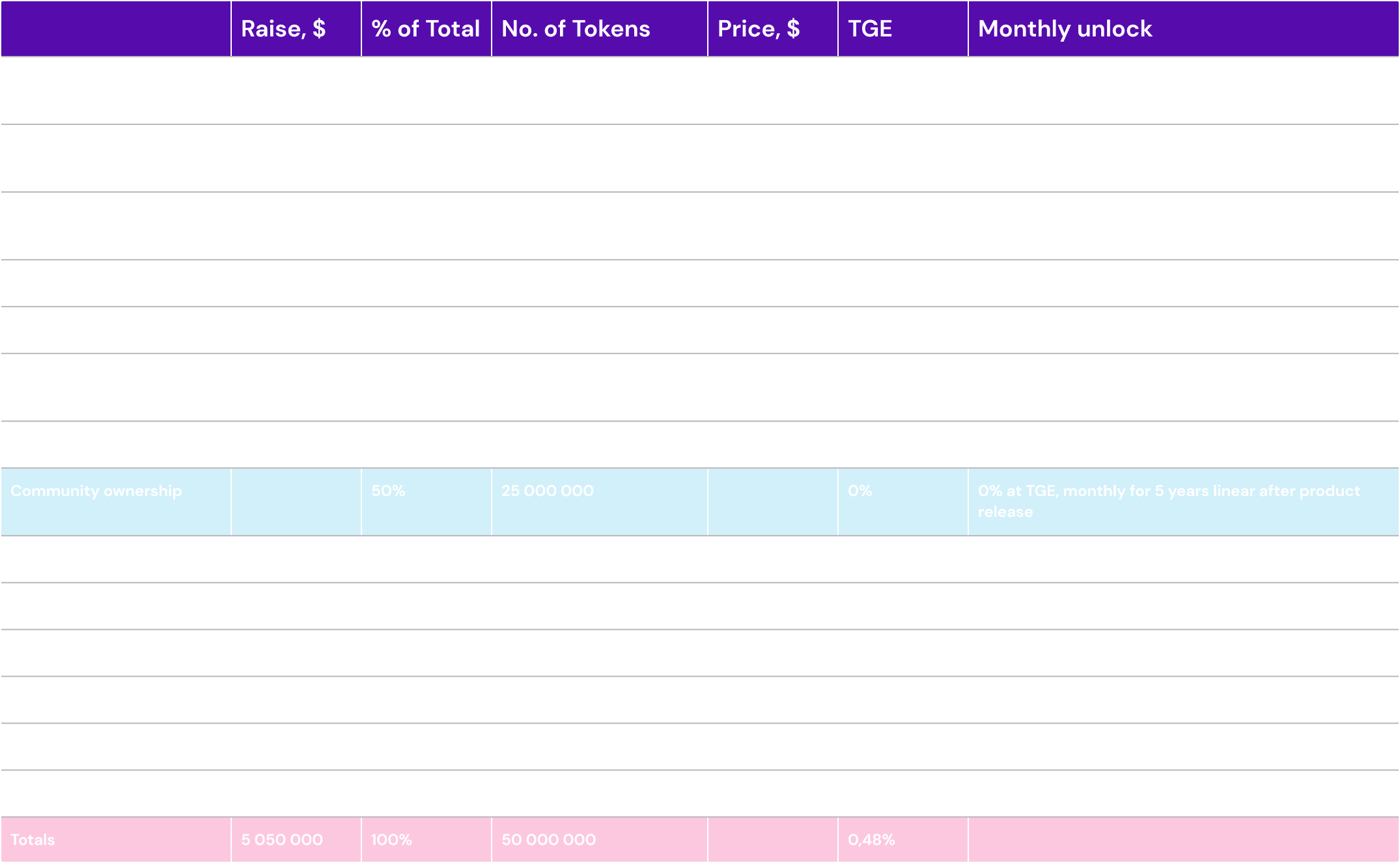 Features of YouMinter
We just analyzed all the problems of NFT space and created YouMinter, solving most of them.
Creation of blockchain account on NEAR blockchain with just your phone number and a nickname
NFT editor which is able to make unique NFTs from your photo or video
Apply Pay or Google Pay payments to mint and transfer NFTs, buy boosters, etc.
AR exhibitions for your community, collectors, and even your mom
Cross platform feed of NFTs to feel the pulse of NFT market
Cross-chain bridge for your NFTs which helps you to transfer your NFT to any blockchain
NFT generating tool which is able to create NFT collection with plenty of parameters
Price analyzer to set the most fair price for yout works
Initial Minting event as a type of NFT sale for your works
Token Usecases
Governance
Staking/farming
Initial Minting Events
Promotional Boosters
Tiers system
AR exhibitions
Roadmap
3Q 2021
- Market research
- Concept creation
- Application design
4Q 2021
- Initial funding (grant from NEAR)
- Private Beta on NEAR Testnet
- Public sale
1Q 2022
- Private Beta on NEAR Mainnet
- iOS and Android apps launch
- YouMinter DAO launch
- Staking/Farming programs
2Q 2022
To be revealed soon..